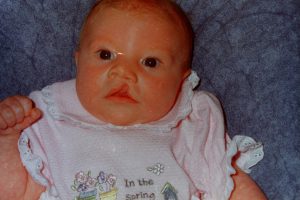 It was a pregnancy like most others, nothing abnormal or unusual. Like every new parents, we anxiously waited for the birth or our first child. One week prior to delivery, the doctor ordered an ultrasound because he thought the baby had flipped. Turns out she was just pushing her rump out rather far. This last ultrasound did not indicate anything other than a healthy baby girl. When the day finally arrived, we headed to the hospital. It was a long delivery without any complications. Once Kayla appeared, my husband and I were completely in love and in total shock. The first words of the doctor were, "It's a girl and she has a slight abnormality called a cleft lip." We had never heard of a cleft lip before. We had no idea, hence our shock. The nurses were helpful, bringing pamphlets, trying to give us as much information as possible. Our baby girl, Kayla, was born with a unilateral cleft.
At less than one week old, we found ourselves at Seattle Children's Hospital.  Once it was our turn to see the doctor, I kept asking him what I had done wrong during my pregnancy to have caused this. He reassured me over and over that there was nothing I could have done to have caused this. We met with more doctors than I can remember that day. It was a bit of a blur in my memory. Kayla had her first surgery at 4 months old.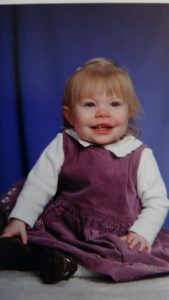 As Kayla grew and began school, it wasn't always easy. In kindergarten, Kayla had her first scar revision. She would compare herself with others. Some would even ask her what happened to her lip. She preferred her friends to not notice or to not be perceived any different than others. In first grade at the age of six, Kayla had her bone graft. They took bone from her hip and placed it in the gap of her alveolar which is the bone where your teeth sit. She was in the hospital for several days. Kayla returned to school as soon as she was able with a cute little hobble due to the pain in her hip.
Kayla had two small teeth in the place where the cleft was. As she grew and her teeth began to fall out, she had to have another surgery to remove the smaller of the two supernumerary teeth. This was during fifth grade. This was the last of the needed surgeries. My husband and I decided that any scar revisions that would come after this would be Kayla's decision. We did not want her to feel as though we were forcing her to do this or that it was necessary.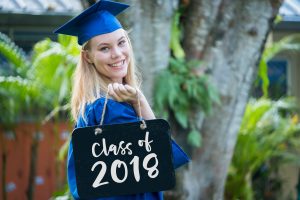 The summer Kayla turned 16, we asked her what she thought about a scar revision. If she was going to do it this would be the best time. We were living overseas in Malaysia, where we still live. This was the summer we would be staying and not returning to the states. She would have time to heal before school started up again. After contemplating her options, she decided to go ahead with one last scar revision. We found a trusted plastic surgeon and had several appointments prior to her surgery. Everything went smoothly and it was a success.
Our sweet, tender-hearted, compassionate girl just graduated from high school. It has not been an easy journey. There have been bumps along the way with many tears shed. However, because of all Kayla has been through and endured she has become a stronger young lady who is ready to face this world and help those she comes in contact with along the way.